Empowering women through art
"The strength of the artistic research of the artist, Rebie, is that she dwells in capturing the emotion and psychology of experiences, allowing us to understand the motivations of the women in her paintings; such that we are moved to visually read their thoughts."
- Rosi Raneri, Art critic and curator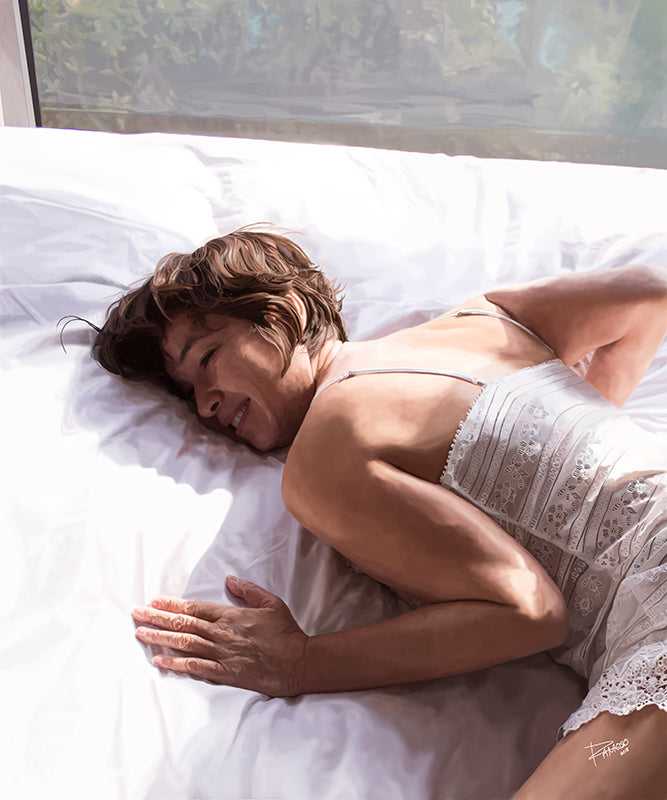 Over the years, I have been able to interview many women, listen to their stories, and share in their happiness, aspirations, grief and misery. I have likewise been blessed with the gift to immortalize these experiences through my digital paintings, and have allowed other women to share in their journeys.
Arte Intima is a service that I am providing to women, 25 years old and above, who would like to honor their personal journeys through commissioned art.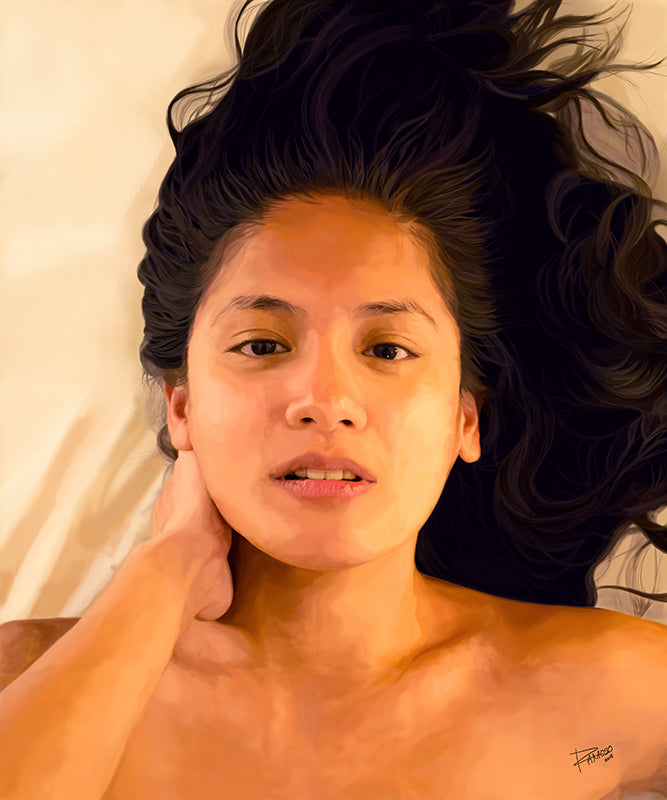 Arte Intima specializes in commissioned intimate and boudoir digital paintings.
Boudoir is a french term for a woman's private dressing room. As a verb, it means "to sulk" in one's bedroom.
Boudoir has evolved in photography as a means to highlight a woman's sensuality.

Arte Intima embraces the various connotations of the term boudoir, and focuses on highlighting your personal stories as women, with the primary goal of helping you love yourselves even more.
Introductory Offer: Get 5% off on rates until 31 July 2023
Arte Intima Options
Arte Intima Silver

If you want a digital painting based on an existing photograph, this option is for you!

You will receive your personal copy of the digital painting printed on mounted canvas, using the finest quality of archival ink, along with a signed certificate of authenticity. You will also receive your own digital copy of the painting, for your personal use.

Arte Intima Gold

This is the best option for women who would like to have an individualized conceptual shoot, reflecting their personal journeys in the privacy of their bedrooms (or their personally selected locations).*


Arte Intima Gold includes the following:
1. free online creative consultation
2. 1/2 day shoot
3. professional hair and makeup
4. high resolution copies of three of your favorite images
5. digital painting on mounted canvas
6. soft copy of the digital painting
7. signed certificate of authenticity

*currently accepting locations within Metro Manila only
FAQs
How do I book for a slot?
You may book your slot by clicking the "Book now" button. You will be asked to choose the following:
1. Your preferred option
2. Your preferred size of the painting
3. Your preferred month (each month will have only one available option)


Is the date indicated in each month final?
The date and time in each month are not final, and are just an indication of your reservation for the whole month. I will get in touch with you to work out a schedule that will suit the both of us.

Do I have to pay the full amount to reserve a slot?
There is a 50% booking fee to reserve your slot, and the balance is due upon delivery of the artwork.

Can you make me thinner and remove my imperfections?
This experience is all about loving yourself for who you really are, including your imperfections. While you may be tempted to have an idealized version of yourself, wouldn't it be better to embrace yourself, including your perceived flaws (which I'm sure we will find beautiful)?

Will you share my photos and painting online?
Your privacy and your consent are of utmost importance to me. If I would like to share your photo/s or your painting, I will ask your permission first.

Do I have to be nude?
You definitely do not have to be nude! The concept of the painting and all the aspects related to its creation will depend on your personality and what you're comfortable with.

Do I have to wear a lingerie?
Same as above, your choice of clothes will depend on the concept that we will agree on, depending on what we both feel will convey your story more sensitively.

Do you accept transgender clients?
Yes, of course!
Introductory offer: Get 5% off on rates until 31 July 2023